What an incredible weekend. We had the joy of hosting some friends from Iowa this weekend. Amy and Brian arrived on Saturday afternoon. I am not sure who was more eagerly anticipating their arrival, my husband or myself. We had spent our morning doing lawn work and last aspects of cleaning. Partly because it needed to be done and partly to keep our eyes off the clock. The decision to wait on cleaning the floors was due to our new fur baby, Belle, shedding white hair as quickly as we can clean it up.
After their arrival, we spent the afternoon catching up. They gave us an update on their family while we shared about our move and discoveries in our new city. We also were able to discuss the activities of St Stephen's Lutheran Church which is how we had come to meet each other. A very relaxing time for sure.
Evening arrived and it was time to find something to eat. We decided to go and enjoy Posado's Cafe which is one of our favorites when we are hungry for Mexican food. Our trips to this restaurant only occur on weekend nights because we have our own favorite server, Kerry. The staff is starting to realize that we will only sit in Kerry's section. She did not disappoint us with her service once again. Amy and Brian seemed to like the food which we do as well.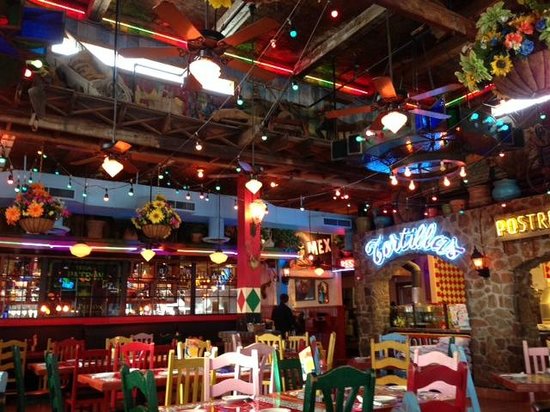 Once our stomachs were full, we journeyed to downtown Fort Worth. My husband and I enjoy spending time downtown looking through the shops and sitting at the fountains in Sundance Square. The buildings of downtown are all outlined in colored lights which change colors every few seconds. If there is a holiday coming soon, the colors often reflect that holiday (i.e., red, pink, and white around Valentine's Day). The clock face on the building behind the stage along one side of the square also changes based on the holiday and/or season. This night it had a summer beach theme. So after showing our friends some of our favorite shops, we sat by the fountains and enjoyed the atmosphere and busy life of Downtown Fort Worth. Then we headed home to relax a little before going to bed.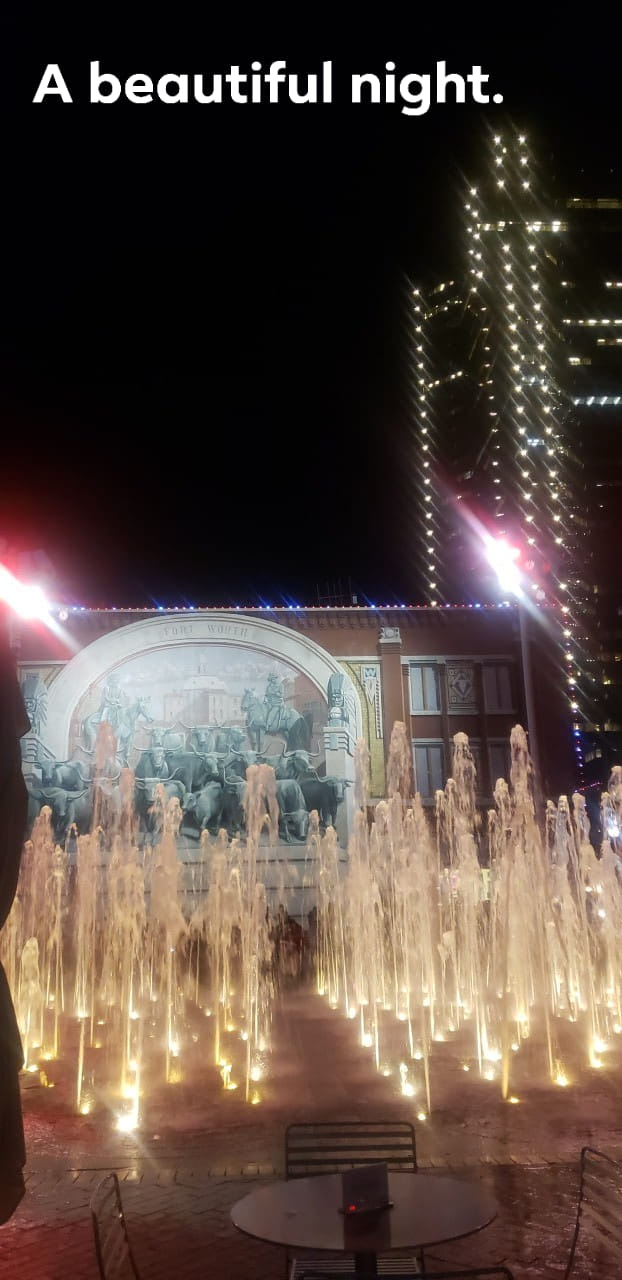 Sunday activities began with a wonderful brunch fixed by my husband. After brunch, we hurried to clean up and headed to the Historic Fort Worth Stockyards. We arrived in time to watch them drive the long horn steers down the street. Once the steers had gone by, we then walked into the stockyards to witness a gunslinger shoot out (all staged). Then we checked out some shops, Brian got some beef jerky, and we picked up some excellent seasoning for dips. A walk to see Billy Bob's took a slight detour so Brian could go through the military museum which interests him since he is one of our nation's brave veterans.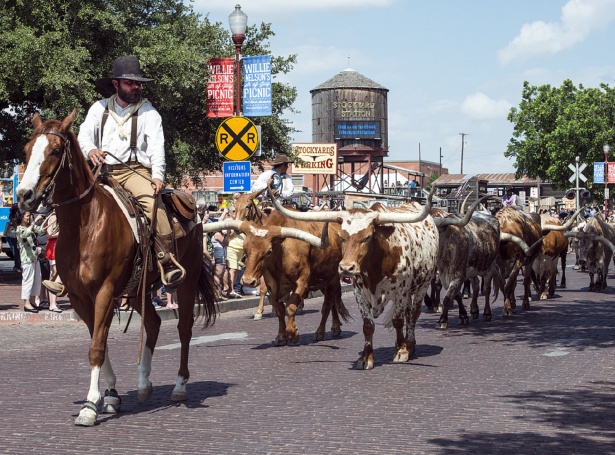 Before leaving the Stockyards, we decided to take our friends to a bar which we had newly discovered on one of our recent visits, Booger Red's Saloon. This bar is filled with character. Behind the bar there is the butt part of a buffalo coming out of the mirror in honor of their Buffalo Butt Beer. The ceiling fans are operated by a series of belts attached to a motor on one wall. You can choose to sit on a bar stool or a saddle as you enjoy your drinks at the bar. Amy was even brave enough to climb on one of the saddles as we sat at the bar.

From the Stockyards, we continued back to downtown Fort Worth where we went to the Water Gardens on the south side of the convention center. This park has three different water features and a "Mountain." The intention when it was built was to provide an oasis in the midst of a very busy urban area. A meditation pool provides a calm pool of water with water running down the terraced walls around it. The aeration pool has spray fountains which create both a visual and sound experience. The largest of the pools in the Water Gardens has water which cascades 38 feet down terraced walls to a pool at the lowest point. You can walk down a series of arranged stone slabs to the pool and then on large stone slabs around the pool. It is an amazing experience.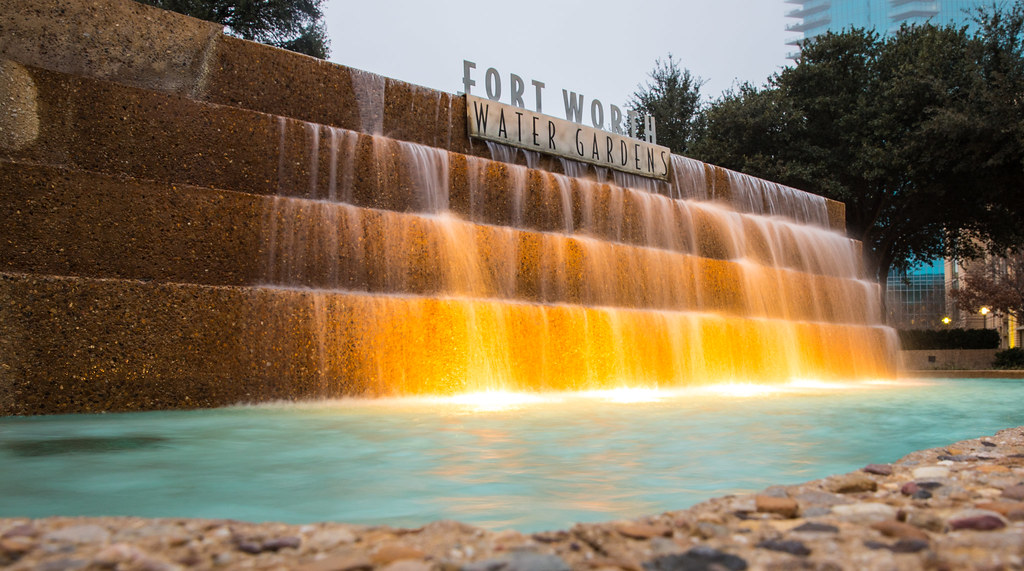 After returning home for some relaxation, it was time to head out to another of our favorite restaurants, B J's Restaurant and Brewhouse. The menu is large and the food is always very good. Then back home to watch a movie and relax
A weekend filled with fun, laughter, and good company had come to a close. We wished our friends good bye this morning and look forward to their promised return visit.